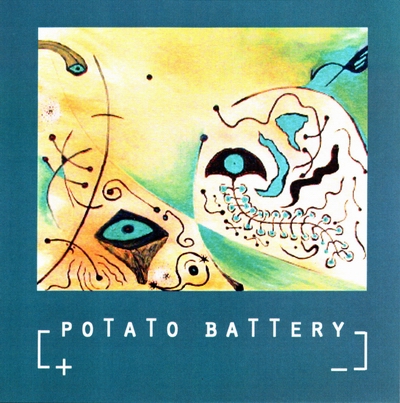 potato battery
Potato Battery
POTATO BATTERY
10 original instrumentals

You don't have to wait to plug into the positive side of the Potato Battery. Right from the first descending guitar chords of SEBASTAPOOL, the music moves you through changes that will have you tapping your feet, listening to the solos, humming the melodies, and generally having a good time.

With original artwork by Mike Ohm, this disc is a beautiful package, filled with great guitar, bass, and drum playing, great writing of all-original music, and musicians who know how to have a good time playing jazz. Come and join Potato Battery in their debut Album.

Potato Battery, 10 tracks of music.
disk 1
Sebastapool
Sticky Back
Pouch
P.S. Open Letter
Lost
Crinkle Cut
Yellow Boots
Last Crusade
Spy Music
Old School

the players

Mike Ohm - Guitar
Sheldon Peterson - Guitar
David Blaetz - Bass
Matt Ferguson - Drums
credits

Recorded and Mixed at
     Elk Creek Studio
Engineered by
     Matt Ferguson
Mixed by
     Matt Ferguson and
     Keith Veshecco
Mastered by
     Keith Veshecco
Graphics by
     DiBello Design
Painting by
     Mike Ohm
[ top ]
©2003 - jdhopkins.com | chelaBOP