JD and the Sons of Rhythm
---
J.D. Hopkins.com Welcomes You! |
---
Players Listing by Name, Instrument, Album and Tracks
---
Follow JD and the Sons of Rhythm on Bandcamp
---

Richard Carl "JD" Hopkins
January 3, 1947 - April 4, 2016
For many years, JD sought creativity in whatever form he could find himself within. He created art, music, literature, and a way of life that was eternally creative. All the members of JD and the Sons of Rhythm that were blessed to have participated in this project have eternal gratitude for what JD provided, both in terms of the studio time, Album production and promotion, but also some of the most fun playing any of us have had.
There is so much that can be said about JD and his life. For now we will leave this website and this music as testament to what a good person can accomplish when given half a chance.
JD leaves behind a multitude of people who love him and had a better life because of him. Sue Buck, his wife of 14 years, created much of the art for our Albums, and with JD combined their visual art with the music to create a series of videos. She continues to create brilliant art. Rickie and Jayson continue to play fantastic drums, and grow their families in the true Hopkins tradition (really cute kids etc etc....) We will mention these few along with daughter Autumn, and simply include the many from there.
From all of us: thank you JD. You are missed.
- Frank Singer
In Memory of Jeremy Quezada
October 16, 1984 - January 13, 2012
- f
Musicians, like all artists, form unique, family-like bonds with their fellow explorers, and these bonds are often formed for a lifetime. When one of these family members leaves us, especially too soon, it is always felt as a personal loss as well as a loss to our close community.
On January 13, 2012 JD and the Sons of Rhythm lost one of their own. Jeremy Quezada, son of fellow JD recording artist Julio Quezada, died in his Boston home at the young age of 27, resonating the memory of the group of departed musicians known as the 27 Club, all losing their lives at this age.
Jeremy played guitar on the first two JD and Sons Albums, Family Values (tracks 5 & 10) and Primate Gestures (tracks 12 & 16). He was a regular member of Mambo, Erie PA's own local Jazz/Latin band, along with Julio Quezada, Rickie Hopkins, Joel Polacci, and Ralph Reitinger.
Jeremy made a lasting impression on a lot of people. He was always ready to share his music and himself with family, friends and fellow musicians, and he will be missed by everyone.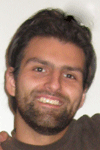 His family prepared a YouTube video tribute to Jeremy which you can see here.
More videos of Jeremy playing guitar:
With Mambo
Solo at Docksider's


PHOTOS:
Click on thumbnail to see photo
News From The Crew
WHAT OUR FRIENDS ARE UP TO NOW
- FRANK SINGER
JD and the Sons of Rhythm included many multi-talented and hard-working musicians during the years the band recorded its collective improvisations. These musicians continue to perform their craft throughout the Great Lakes Region and beyond, often joined with other veterans of the Sons of Rhythm in clubs, concerts and festivals, and with a variety of different acts.
Frank Singer (midi guitar) and Joel Polacci (percussion) play regularly with Ahimsa Beat, and recently joined David Blaetz (bass) and Phil Papotnik (sax) in Valerie Horton Brown Project in their performance at Erie's 8-Great Tuesdays on the Bayfront. Frank and Phil play in Cat's A Bear along with Joe Dorris (percussion) and Tito Ronzitti (percussion), and David plays in the Heliotropes with Sheldon Peterson (guitar).
Joe Dorris' JD Jazz includes duos and trios with Frank Singer, Mike Ohm and Tito Ronzitti. Joe, Frank and Tito along with bassist Tony Grey are participating in the monthly "Jazz At The Tratt" series at Matthew's Trattoria, with jazz artists Bobby Militello, Joshua Breakstone, and Claire Daly filling the first three slots with great music. Mike Ohm plays regularly with Key West Express and Superbasket. Frank and Mike get to sneak in a jazz duo here and there, and both play solo jazz guitar as well.
One World Tribe continues to advance the cause of peace, tolerance and kickass music throughout the region. Frank Singer, Baba Raymond Sylla (percussion), Preach Freedom (vocals, percussion) and Mike Chin (bass) play often, kicking off the 2010 8-Great Tuesdays events by opening for Rusted Root, with Preach now their regular drummer. The band will make the rounds to Buffalo (Neitzsche's) and Erie (Docksider's) over Thanksgiving weekend. Check the OWT calendar for details on these and other upcoming performances.
One place many of the Sons veterans played was Romolo Chocolates Piazza. Tony Stefanelli (bass) has devoted his recent energies into improving and expanding Romolos, which includes developing a function room that will include year-round jazz performances in its scheduling. Joel Polacci and wife Christine graced downtown Erie with the Jive Coffeehouse last year, bringing in great music and providing a supurb meeting place. Phil Papotnik helped bring the music to the people through the efforts of Raven Sound, who provided sound for 8-Great Tuesdays, the Blues and Jazz Festival, and many other venues and events around the area.
Some of the Sons of Rhythm are music teachers, including Mike Ohm who teaches guitar at Lynch Music, at his home and at McDowell High School. Frank Singer continues to teach guitar, piano, bass, drums and sax out of his home, and has partnered with The Fleming School to present a series of workshops and ensembles at their Lake City facility. Many also study and pursue new frontiers. Frank did an intensive summer of vocal studies, Tito has embarked on piano lessons, and Rickie Hopkins (drums) has organized an ensemble that features his Hip Hop vocals.
You can find out more on these musicians through the following links, or find these musicians on Facebook: David Blaetz, Joe Dorris, Preach Freedom, Joseph Frisina, Randy Hetherington, Mike Ohm, Phil Papotnik, Doug Phillips, Sheldon Peterson, Joseph Allen Popp, Julio Quesada, Ralph Reitinger and Frank Singer.
oneworldtribe.com
catsabear.com
onlinelessonswithfrank.com
www.toobigpower.com
www.ravensound.com
franksinger.com
www.romolochocolates.com
www.myspace.com/jdandthesonsofrhythm
www.myspace.com/ahimsabeat
www.myspace.com/rickiehopkins
www.myspace.com/oneworldtribeband
[ top ]
Colors of Tyme brings timeless music

Colors of Tyme presents fourteen new tracks of fresh, collectively improvised jazz fusion, all from the later sessions at Midtown. The music mixes Funk and World-Beat grooves, with flavors of Latin, Afro-Caribean, Samba, Soka, and the occassional odd-time rhythm pattern.
These later sessions included a cast of regulars. In addition to drummers J.D. Hopkins and his two sons, Rickie and Jayson, guitarists Frank Singer and Mike Ohm are present throughout, with Singer switching to keyboards and bass on some of the tracks. These five musicians have played together in this project on every Album to date.
The revolving bass chair is also filled by Ralph Reitinger (4 Albums,) Tony Stefanelli (10 Albums,) David Blaetz (8 Albums,) and Kenny Cornelius (10 Albums.) Joining in on percussion is Joel Polacci (6 Albums,) Tito Ronzitti and Joe Dorris (Moving Through The Elements,) and Preach Freedom (Astral Worlds, Near Journey's End.) Guitarist Sheldon Peterson (10 Albums,) and saxophonist Phil Papotnik (5 Albums) complete the ensemble.
All of these musicians are veterans of this project, and play together in all measure of situations. Every style of music is represented in these bands, which include Cat's A Bear, Ahimsa Beat, JD Jazz, Potato Battery, One World Tribe, 3bop, Starfish, Weirdo Theater, Valerie Horton Brown Project, and any number of side-projects, free-lance gigs, and recordings.
All this is to say that the music gels for a reason. There is experience of the jam, of each other, and of music itself. This familiarity enhances the process of spontaneous creation, allowing players to guage the direction the music is taking and add their input in a musical way.
This freedom is not anarchy. The concentrated listening that these musicians must do to produce this music is tempered by the years of performance experience they share. Knowing innately the effects music has on the listener colors their instincts and judgement which gives the music coherence.
In short, it grooves as it moves.
Hear the accomplishment for yourself on Colors Of Tyme from JD and the Sons of Rhythm.
Purchase Links:
Bandcamp / Apple iTunes / Amazon.com / Amazon Music
[ top ]
J.D. on music, art, gratitude and myspace
First, regarding my recent show:
Thanks to Nancy Manning, Director of the Meadville Council of the Arts, for the showing and the great job she and artist George Nowack in hanging the show. George also took photos which will be posted soon.
For people doing creative, technically proficient art, outlets to show or play one's work are essential. Thankfully the internet has opened up doors that decades ago were not even imaginable. Although it is not live, the internet allows the freedom to display one's work without being at the mercy of local or corporate pressures, competing for dollars instead of presenting originality.
Mass production in industry creates a situation where music costs are "bottom-lined." Even when creative music is released in limited amounts it is packaged as a form of pop music or cultural art. At least this does gets some music to the public for appreciation.
For the most part, however, corporate profit taking and general greed seem to have overtaken the music recording and promotion business. When music becomes strictly a commodity, creativity and experimentation are lost in the material quest for high profits and low costs.
At times, people and companies have bucked the system, notably ECM and Blue Note. Often, however, most cutting-edge creative work is considered to have little or no commercial value. The value to our human collective creative identity is beyond monetary values. Thankfully there are still creative artists that manage to reach through the static, but much that could be heard and appreciated is lost.
Many creative musicians are forced to play music in idioms they don't want to be in, but to live another day is to play another day. Pandering to simplistic tastes and in some cases racial and ethnic bias plays a part in what gets recorded and promoted. This is framed by Abby Lincoln in Ken Burns' Jazz Series, in which she elaborates on racial injustices in the recording industry. This is a highly recommended video series if you have not seen it yet.
Some resist the norm, and for those beautifully creative humans, one knows that creativity must be done, or one begins to shut down physically, spiritually, psychologically or emotionally.
I am grateful and truly proud to know and be associated with so many gifted people. I find myself surrounded by a community free of hype, fluff or mindless social hipness games.
I would like to invite creative people reading this to contact me through MySpace.com at www.myspace.com/jdandthesonsofrhythm. We have been hooking up with people worldwide, including radio stations and websites. Of particular note is the site of Rick Calic, of jazzrockworld, who has been a long-time friend and supporter of us and of Jazz Fusion.
The musicians and artists associated with the Sons of Rhythm are doing our part in making creative art. The internet allows us to interact directly, helping us to know each other's work without the aid of record corporations, large art galleries and national magazines. I believe this is opening doors that we should take advantage of, establishing our presence before greed and self-interest have a chance to overcrowd the internet information highway.
My son Jordan takes care of the MySpace.com website for me, as I claim computer illiteracy. My partner Frank Singer takes care of the J.D. Hopkins.com website. J.D. and the Sons of Rhythm will continue in the hands of Frank and my son Rickie long after my currently uncertain health prevents my direct involvement. Right now we have over 50 musicians and artists involved directly and another 30 or so indirectly with this project. We hope to keep this going for years to come, and join with other creative people all over the world to collaborate on our collective success.
We would like to thank Dr. Rock, aka Dave Richards of Erie, PA's Showcase. Dave has been very good to us through this excellent entertainment magazine, helping to provide coverage of the creative arts and pop scene in this area. John Vanco, Director of the Erie Art Museum deserves thanks also for including us in the Blues and Jazz Festival and for his assistance with the combined music and art shows at the Art Museum Annex performance space.
I would like to close with thanks to the people playing and recording the music. There are an amazing group of musicians, creative as hell, and a whole lot of fun. Thanks especially to Frank for not only being the most amazing musician, but also traffic director for the melodic and harmonic instruments. He runs the web site and is my partner and friend.
Frank, along with the Sons Rickie, Jayson and Jordan will continue to move the music and art forward. We hope to have films by artist/film maker Sue Buck with J.D. and Sons music on YouTube and MySpace soon. Rickie, Frank, Kenny, Preach, Steve Snippert, Kristen Lee and others continue to work together on various projects, so stay tuned.
J.D.
[ top ]
J.D. Art Featured
PSYCHOCO EXPLAINED
by J.D. HOPKINS
My art work is a visual extension of our music. I guess a good term would be Psychoco.

Rococo art was strictly decorative, as is mine, and with the Psychic Drift Factor while looking at my art, as well as with our music, I think the term fits well. It's sort of like beautifying a trip through the universe to hang on the wall.

I have a show on Friday, January 12 at Meadville Center for the Arts (MCA) from 7:30 - 9m. Rickie and Darrin will play music. See you there. All proceeds will be used in the continued development of jdhopkins.com.
[ top ]
News From The Crew
WHAT OUR FRIENDS ARE UP TO NOW
- J.D. HOPKINS
Kirk Nesset, professor of creative writing at Allegheny College, and disc jockey, whose comments on our music were quoted in our Downbeat and Modern Drummer ads, recently won the prestigious Dave Heinz Literature Prize for his collection of short stories called Paradise Road. That's cool, Captain Kirk, we offer our congratulations. Kirk also plays guitar, composes, and sings in local bands.
Scott and Kim McCleland of the Roadhouse Theater for Contemporary Art have opened Toulouse Gallery on Peach Street in Erie. The Sons of Rhythm and I have had a great working relationship with them for years. Recently they hosted the Great Lakes Film Festival, in which artist and teacher Sue Buck had several films accepted for the festival. (More below.) Thanks to Scott and Kim for all they've done for the creative arts in the area, in which they have been a major factor.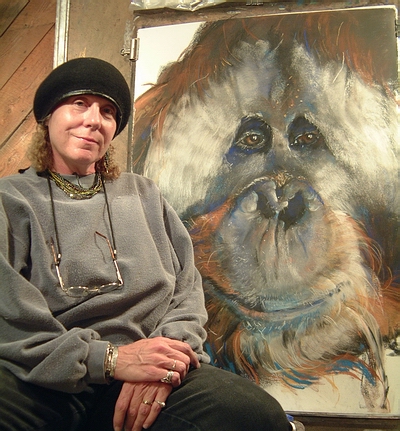 Sue Buck, whose drawing of a gorilla was used for the cover of our Album entitled Primate Gestures, has created drawings for the National Zoo Think Tank and her works have been purchased at art auctions staged to raise money for the Rio Grande Zoo in Albuquerque, New Mexico and the Norfolk Zoo in Virginia. In 2001, she was commissioned to create portraits of five individual chimpanzees housed at The Chimp Center which was until recently associated with Ohio State University and the work of Dr. Sally Boysen. The Great Ape Trust in Des Moines, Iowa has commissioned seven drawings of bonobos and orangutans who live at that new facility and sanctuary. Four of those drawings have been editioned into prints and her images will also be reproduced on t-shirts and mugs; all of these will be sold to raise money for the organization. Future projects include the possibility of creating a mural of one of the orangutans for the city of Des Moines.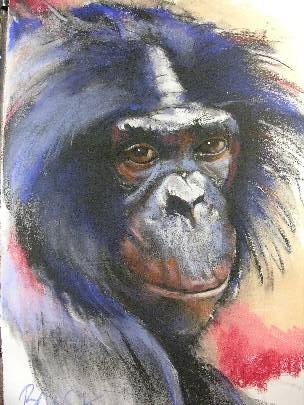 Panbanisha, who is a female bonobo living at the Great Ape Trust and whose portrait was drawn by Buck, was the inspiration for a song on a newly released Tony Levin CD. Levin, who plays bass for Peter Gabriel, met Panbanisha and it was through this experience that she became the subject of one of tracks. Check out www.greatapetrust.com to see and hear an interview with Buck and to meet Panbanisha and other apes.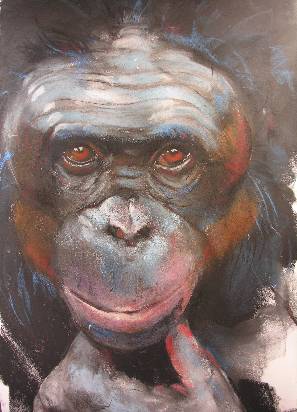 Buck has been using music by JD and the Sons of Rhythm for her films, four of which were previewed at the Great Lakes Film Festival and also shown at the Allegheny College Art Gallery. The artist has also been creating her films to music mixed and created Rickie Hopkins and his friend Steve Snippert.
Rickie Hopkins and Steve Snippert are developing new hip hop tracks for an upcoming CD project, and are sharing some of this music with Sue Buck. In addition to this venture, Rickie will be joined on Friday, January 12 by Darrin Foltz, where they will be playing for my [J.D.'s] art show opening at the M.C.A. in Meadville, PA, above the Market House in Market Square, from 7:30pm - 9pm.
Editor's Note:
J.D. and the Sons of Rhythm would like to thank all of our crew, which includes performers, technical assistants and engineers, artists, writers, radio and internet radio personalities, webmasters and web site owners, and especially fans and listeners who give us someone to share our music with. In the words of my friend DJ Chilly J, Peace and Blessings.
[ top ]
Near Journey's End Marks Milestones
DISC 12 - NEAR JOURNEY'S END
Dedicated to my friends Jim Hall and Mike Smith. Both died within 2 months of each other. Jim did the cover art plus T-shirt designs on our web site. Mike was responsible for me playing the drums. He was one of the great drummers in jazz. We all went to school together and were part of a tremendously creative group of people that survived and grew up in a small town in the 60's. Paul McCandlass of Oregon and Paul Winter Consort and Will Rounds who's sculptures can be seen at the Lincoln Park Zoo in Chicago and Disneyland in California are two others of significant creative output.
J.D.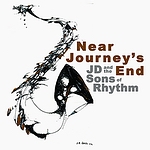 Near Journey's End brings together nineteen more tracks on two discs of J.D. and the Sons of Rhythm. This jamming collective improvisation ensemble once again creates music without a net, relying solely on listening, experience, sensitivity, and a desire to communicate ideas between fellow creators.
J.D. Hopkins, executive producer and mastermind of this project, once again assembles the crew from the rhythm up, with sons Rickie and Jayson joined by Joel Polacci, Preach Freedom and new member of the extended group, Baba Raymond Sylla, Senegalese master drummer.
The bass work is divided between Ralph Reitinger, Tony Stefanelli and David Blaetz, with Ralph handling the bulk of the cuts, and David's two on Acoustic. Guitarists Mike Ohm and Sheldon Peterson make frequent appearances, Phil Papotnik adds sax, flute and clarinet, and Chris Sedelmeyer mixes in violin, adding some cool effects. Pianist Mark Dewalt plays the first song with Phil and Sheldon, and Frank Singer adds the rest of the keyboard tracks, as well as guitar-synth and guitar, including the acoustic guitar solos.
From the opening ballad feel, diverse styles are covered, with Ornette Coleman-style Free Jazz textures, Herbie Hancock-style Funk grooves, Miles-like explorations, World Music jams, and even some Swing. Like so many contemporary musicians, these players have enormously eclectic backgrounds and experiences. Players often find a common thread of style in unexpected places, and just as often end up playing poly-stylistic mixes that somehow gel and lock to create a new harmony. Creativity rises from below to add to the conversation above, and one influences the other. It is organic music of the first order.
Dedicated to Graphic Artist and Designer James Hall and Jazz Drummer Mike Smith, this Album gives honor and commemoration to two fellow artists who died in 2006, a few months prior to the release of Near Journey's End. Originally titled to mark the conclusion of recording sessions and the process of completing the release of the already-recorded material, it became obviously appropriate to dedicate the music to James and Mike as these sad events transpired.
Near Journey's End is disc set number twelve. This string of releases represents a notable body of work, showing the evolution of ideas and musical thought, and familiarity with fellow musicians and with the preceding works. Jim Hall's beautiful art encapsulates the mood and character of this current project, both modern and classic, abstract and clearly recognizable, and to the journey's end, creative.

Bandcamp / Apple iTunes / Amazon.com / Amazon Music
[ top ]