J.D. Hopkins believes that when life gives you lemons, you make music -- lots of it.
M
eadville-area musician
J.D. Hopkins
isn't sure how much longer he'll be around. He's got a bad heart, the result of separate heart attacks which occured on stage. Last winter, a medication problem briefly left him in a coma.
He
could try to get on a transplant list, but past legal problems would make that difficult. He figures he's "only got a couple years anyway" so why deal with that cumbersome process?
You'd
think he has every reason to throw up his hands. Instead, he's cheerfully thrown himself into music, his life-long passion, making every moment count. He leads
J.D. and the Sons of Rhythm
, a loose consortium of top-flight musicians, which includes his drummer-percussionist sons Jayson and Rickie. J.D. also plays percussion.
"This
is the most creative-group thing I've ever done by far," said Hopkins while lunching at Ali Baba recently. "It's the most fun. We laugh all the time."
J.D.
and the Sons of Rhythm have issued six CDs of improvised music, including "
Imagination Doctors
", their latest. On Sunday at 2 p.m., they play a free show at the Erie Art Museum Annex, 423 State St.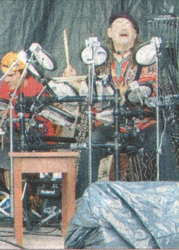 They'll
Appear with
Joseph Allen Popp's Wierdo Theatre
, which sculpts original music mayhem and mischief that'd please old Captain Beefheart fans.
Open-minded
listeners will find plenty to absorb. J.D.'s jazz-driven group includes some of Erie's best musicians, such as guitarists Mike Ohm, Sheldon Peterson, and Frank Singer; bassists Tony Stefanelli, Ken Cornelius, and Dave Blaetz; and persuccionist Joel Polacci. All but Blaetz and Polacci will join in Sunday, while Popp will also pop in for a set.
J.D.
and the Sons of Rhythm don't use a set list because the songs they play do not exist until they play them. J.D. and sons create rhythm patterns, while the others interlock and/or play off each other. The improvised songs often get complex, using multiple time signatures. Everyone's got to be on their toes.
"With
these guys, if you're not paying attention every second, they'll run right over you," said Hopkins.
"You're
basically listening and trying to react to what you're listening to and also, of course, trying to act," said Singer, the group's music director. "It's typical of any kind of improvisation. In this case, you've got to maybe adopt a role for awhile and figure out if and when that's going to change."
It
helps that all three guitarists feature extensive jazz backgrounds. Singer said they usually agree which key a song will be in before they start and discuss strategy. By working together more than two years, the players aren't just on the same page -- they're nearly telepathic. When sparks fly, it's exciting.
Still,
audiences for dream-it-up jazz aren't Eminem size. So Hopkins is taking matters into his own hands. He's advertised the group's CDs in Relix and Downbeat magazines, and ads will soon appear in Guitar Player, Mother Jones, and Utne Reader. The goal: Sell 1,000 copies a year worldwide. They've already received orders from Europe.
"We
want to get this music out there," Hopkins said. "It's really important to me because I think a lot of it. Enough to do six CDs with Frank , Mike, and the boys."
Sunday's
show is also a CD-release party for Wierdo Theatre's "
I Spy the Hootzpah
." The five-song EP, recorded live at Forward Hall, features the group's otherworldly melange of theremin, Rob Gray's incantations, Popp's out-there guitar extrapolations, and Rick Lopez's jazz-influenced drumming. Whether re-inventing a Dean Martin song or playing an original, they carry on the spirit of adventurous artists such as John Cale, Syd Barrett, Leonard Cohen, and Beefheart.
Some fans are baffled; others intrigued.


"Some

definitely won't even give it a try," Popp said. "They think it'll be too wierd for them. But when people do see it, they're like, 'Wow, I had no idea about that kind of stuff.'"
Sunday's show also doubles as an

art exhibit

with works by Popp; J.D. Hopkins'; Hopkins' wife, Sue Buck, and Allegheny College art professor; Mike and Lori Ohm; and Jayson and Jordan Hopkins. The exhibit -- mounted just for one day -- includes paintings and photography.


The

annex's second floor gallery also features a just-opened traveling exhibit of rock posters and album covers by such artists as Sex Pistols, Pink Floyd, the Supremes, the Clash, and others.