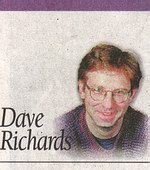 Creating music its own reward
At some point in life it happens to many of us: The need to vegetate supercedes the need to create.
We become watchers, not doers. Or, as Kurt Cobain dryly sang, "Here we are now: Entertain us."
So I admire those who never let their creative drives stall. I cheer those who still pick up a guitar and write a melody, who grab a pen and write a poem, who pick up a paintbrush and turn a blank, white canvas into something breathtaking.
I especially respect those who let their creativity flow in a free way that's unaffected by commercial calculation. Not that wanting fame and fortune is necessarily a bad thing. I can think of worse professions than rock star or best-selling author.
Still, some people choose to express themselves just to express themselves, nothing more. They've got a unique perspective, an original slant, something to say in ways that no one's said before. They create to let that out and for the sheer joy of creating, not because they crave groupies or Grammy awards. The inspiration comes from within, but so does validation.
This Sunday at 2 p.m., two groups will perform at the Erie Art Museum Annex that go their own merry way. J.D. and the Sons of Rhythm improvise complex jazz on the spot, before your eyes. They never play the same song twice; each is unique unto the moment you hear it.
Yes, that can make them unpredictable, a tad indulgent, hard to follow. But it can also generate magic when everyone's clicking, which is often the case when you've got talented musicians such as Frank Singer, Sheldon Peterson, Mike Ohm, Kenny Cornelius, Tony Stefanelli, and band leader J.D. Hopkins and his sons onstage.
Hopkins knows the audience for jazz of any kind is relatively small, which makes the audience for this tinier still, especially here. But he's proud of the group; he'd like those with open ears to find it. So, he's cast a worldwide net, advertising in magazines such as Downbeat. He's created a web presence. Which means that someone in, say, Australia can learn about them and order a CD.
But live music is best and this inventive group lives here, not in New York City or Los Angeles, which is cool for us. Ditto Joseph Allen Popp's Weirdo Theatre, which plays experimental, on-the-fringe rock inspired by Captain Beefheart and John Zorn, among others. Like Pluto, it's out there. But they pursue it with a passion and devotion that's inspiring.
So, while many of us plop on the beach or in front of TV on Sunday afternoon, these musicians will hunker down to explore, create. It's a free show. But that doesn't mean they won't get anything out of it.
---
D A V E R I C H A R D S
can be reached at [814] 870-1703 or by e-mail at dave.richards@timesnews.com.

[ top ]
©2003 - jdhopkins.com | chelaBOP