J.D. Hopkins and the Sons of Rhythm: Finding Complete Freedom in Experimental Jazz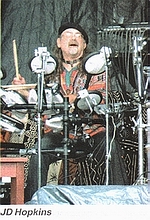 "We didn't plan on making it", says a nonchalant J.D. Hopkins, "but after hearing (our music) so many people said we had to get our stuff out there". Now J.D. Hopkins and The Sons of Rhythm are gracing the pages of such national music magazines as Relix and Modern Drummer. Their improvisational World Beat/Jazz style reminds you much of the Grateful Dead's unplanned jams but their music is much more classical and earthy, leaving much of the rock behind and focusing more on melodic harmony.
I met with J.D. last month in the Mikdtown Recording Studios at Forward Hall of Erie, Pennsylvania. This studio was but another one of J.D.'s creative ventures and was just recently completely turned over to recording maestro and (St. Bonaventure?) grad, Randy Hetherington. Among the other J.D. undertakings he has stacked up booking agent, publisher and artist to his list, all which have brought him success.
J.D. was raised in Meadville, PA where he recognized his interest in music by the age of eleven under the guidance of his mentor Cootie Harris who was his drumming teacher. Studying under Cootie Harris doing jam sessions with the likes of such an amazing player in the late 50's and early 60's gave J.D. the jump start he needed and he was playing professionally by 1996.
He has been playing in bands ever since then but began to get burned out by all of the egos he encountered in the industry. J.D. was put in a position of having to quit indefinitely when he was sentenced to prison in his last drug sting for five years, but here too Hopkins discovered a way to release his creative energy which fostered nothing but good for himself and the people around him. Here, locked in a place where you have to deal with so much negativity and crap day in and day out, J.D. fostered an environment with his music that opened a door to something positive in the cell.
In his books, such as I Might Be Nowhere But At Least I'm Somewhere due out in October and the 1994 release Queens of Iron, Hopkins reveals the stories of prison life and the daily rituals of the inmates he shared these 5 years of his life with. Hopkins gets somewhat annoyed by the media depiction of jail written inevitably by someone who's never spent a day in a cell. His books have the unique ability to offer the reader the opportunity to see the point of view of each of his characters and their real story. He told me that when he was writing he would pass the pages down the cell line and each prisoner would have the opportunity to say, "that's right on" or "that's way off".
When J.D. was released he was a new man; he was clean and he met his wife to be, artist and lecturer Sue Buck, shortly thereafter. Sue, an art professor at Allegheny College who specializes in drawings and photos of primates among other things, had been working at the Art Institute of American Indian Arts in Sante Fe, NM when she came to the Allegheny region to apply for the teaching position. After her interview she walked into a local bar and saw the freshly anointed citizen J.D. there and as he describes it, "it was love at first sight".
Another pivotal moment on J.D.'s path happened when he met Randy Hetherington. Hetherington came to be the source through which he met Frank Singer and Mike Ohm, the core members of his group. When they met he said, "everything just flowed". "This was the first time", Hopkins reflects, he "met people who can really play and who are really good people".
Hopkins and the Sons of Rhythm formed under the motto: "Leave Your (Negative) Ego at the Door" and it is because of this core concept that their music flows much like a conversation between lovers. In fact, Hopkins states that this group is very much in a "love affair musically". What's most amazing about these guys is they only meet "maybe once every two months" and when they do, Randy is in the recording booth and with four one-night/two-hour sessions they have completed another professionally recorded and sold CD. If they record 8 hours, they keep at least six full hours of that material; over 3/4 of what they produced. That's a sure sign of a tight band.
"Everything we do is organic" states J.D., "each song is a growing process and we never know where it's going to go". "Besides", he laughed, "that makes it more interesting and exciting anyway". Unpremeditated, experimental jazz gives this group what they've always been in search of, "complete freedom". With the list of musicians in the Sons of Rhythm encompassing the creative likes of Frank Singer, Mike Ohm, Sheldon Peterson and Tony Stefanelli, the group has found themselves in the favorable position of having no limitations.
Check out J.D. Hopkins and the Sons of Rhythm at Forward Hall on Peach Street in Erie Pennsylvania on July 3 for a Fusion show with other local bands such as Cat's A Bear. They will also be performing at Forward Hall on August 14 and September 3. I caught them live in the Erie Art Museum Annex on June 13, where J.D. will be back playing on October 3.(*Note: This venue has since been moved to the Roadhouse Theater*)
J.D. was jamming with his sons Jayson and Rickie at this show. He has been playing with them in this form for about 2 1/2 years now and is completely excited and honored about his drum family. Seeing three sets of drums on the stage interacting with each other is really something. The songs all flowed really well and besides the wind up and wind down of each new melody, it was hard to believe that not one note was written. The group has a way of working in harmony where no one instrument ever out powers the other. The beginning and end of each song is interesting because it is here where you can see them pulling together to find the right style and zone they want to take the song, but when you get caught up in the middle of the jam the notes are seamless and all discreetness is lost. This is where you witness their "musical love affair".
To find out more about J.D. and the Sons of Rhythm and other bands managed by Hopkins and recorded in Midtown Recording log on to www.jdhopkins.com.
Article from July 2004 art'e-fakt magazine (vol. IV issue II)
by Jeanine Zimmer ( editor@artefaktmagazine.com )
www.artefaktmagazine.com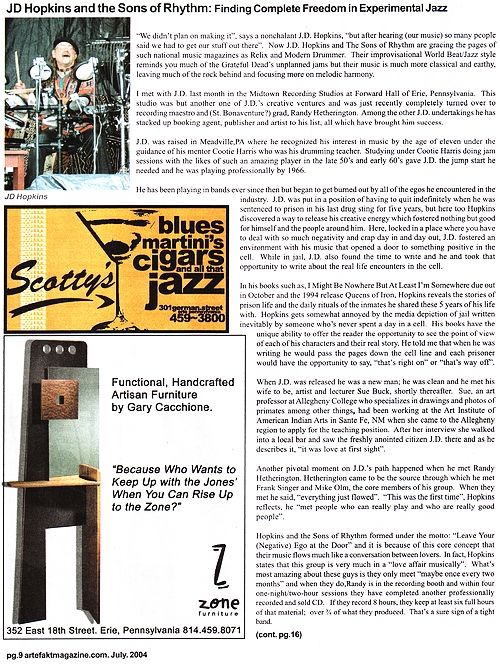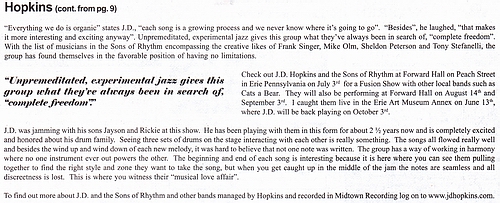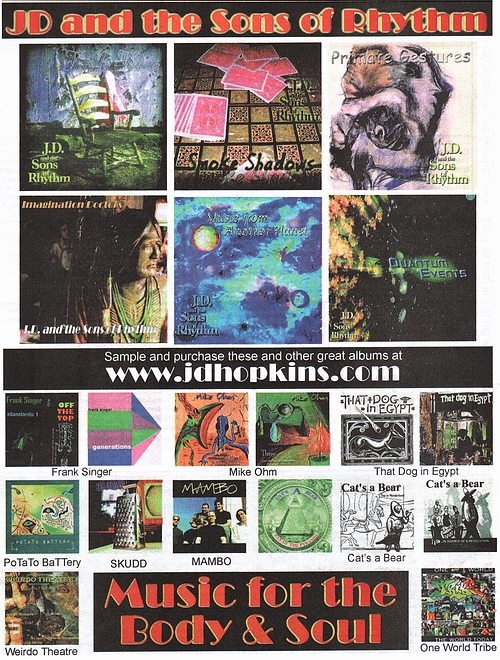 [ top ]
©2003 - jdhopkins.com | chelaBOP