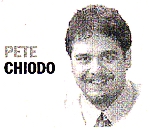 Musicians bring a lot of things to gigs - their gear, possibly a groupie or two, maybe some choice pharmaceuticals. Few, however, probably carry the same kind as local drumming legend J.D. Hopkins.
"I have to take my nitroglycerin with me," said Hopkins, referring to the medicine that treats someone having a heart attack.
Well, that's what happens when you have two of them - heart attacks, that is - while you're on stage playing. And that's what happened to Hopkins at a concert in Pittsburgh in 1996, and then again last year when he and his band, J.D. and the Sons of Rhythm, were playing at the Frontier Park Jazz Festival in Erie.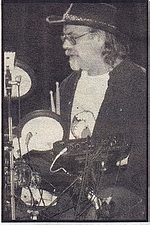 "Yeah," said Hopkins, "I've been having some health problems - heart, sugar diabetes, back problems."
It's mainly due to those problems that the 57-year-old Meadville native is considering ending his long and storied career as a drummer. In fact, when J.D. and the Sons of Rhythm play a show at Erie's Forward Hall this Saturday - along with fellow regional bands Cat's A Bear and Potato Battery - Hopkins is seriously considering making it his last.
"If I feel better, I might book a gig in October," he said. "But, right now I can't deal with it no more. I do love it, but not enough to want to kill myself doing it."
Stopping now would end a 45-year run for Hopkins, who picked up the skins at the very start of the 1960s, has been playing live since '67, and has been recording since '79.
His latest musical venture, the aforementioned Sons of Rhythm - an intriguing, fully-improvised mix of poly-rhythmic grooves, other-worldly melodies, and blazing solos - has been active for just about two-and-a-half years.
Oddly enough, then, this doesn't seem like the end for Hopkins. Things appear to be rolling for J.D. and the Sons.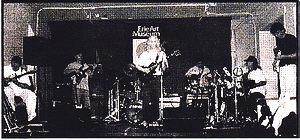 First, there's Saturday's show. Right around this time the band will release its first live album, "Live at Forward Hall." Two more double-disc studio sets are due to follow in September, bringing the Sons of Rhythm's catalog up to nine total releases.
Hopkins also reported that Modern Drummer magazine is planning a piece on Hopkins and his actual sons Rickie and Jayson, who also play drums in the (oh-now-I-get-it) Sons of Rhythm.
"It's kind of an interesting situation with this band," said Hopkins. "There are three drummers, myself and two of my sons. So, it's kind of an odd story for (Modern Drummer) to do.
"Also, the three of us come up with a unique concept of rhythm. We're kind of non-linear. In other words, when you get a percussion ensemble, they're pretty much playing in linear time. We don't. We'll have the drums playing one particular pattern, the congas playing another. ... We have all these different rhythms and time signatures going on - 7/4 and 4/4, 4/4 and 6/8, things like that.
"The only problem was," he added with a laugh, "finding bass players that could keep up."
The Sons finally found their bass player - a couple of them even - as well as a few guitarists and keyboard players and a whole slew of the most experienced and talented musicians in the Erie area, including Kenny Cornelius (Starfish), Joe Popp (Weirdo Theatre), Joel Polacci (Mambo), Frank Singer (One World Tribe), Tony Stefanelli (Cat's A Bear), Mike Ohm, (Potato Battery), Sheldon Peterson (Potato Battery) - and that's just on their latest album.
In fact, collaborating with all those guys is one of the things Hopkins said he'd miss the most about not playing anymore.
"There are some excellent musicians right there," Hopkins said. "We've got all these great musicians playing in one band. They're extraordinary and, God, it's been a dream."
Hopkins also said that even if he stops playing, he doesn't want the group to disband and he plans on continuing to promote their work and book the shows.
"The live part, recording things, I don't know, we'll keep that going until those guys run out of ideas. And these guys have a ton of ideas. It never fails to amaze."
J.D. and the Sons of Rhythm, Potato Battery and Cat's A Bear will play Forward Hall this Saturday beginning at 9:30 p.m. Cover charge is $4.
To learn more about J.D. and the Sons of Rhythm, or to purchase any of the band's music, or any of Hopkins books or artwork, go to www.jdhopkins.com.
Pete Chiodo is a sportswriter for the Tribune. He can be reached at 724-6370 or by e-mail at pchiodo@meadvilletribune.com
Article from Thursday, September 2, 2004 BRAVO! Section; Meadville Tribune
by Pete Chiodo
www.meadvilletribune.com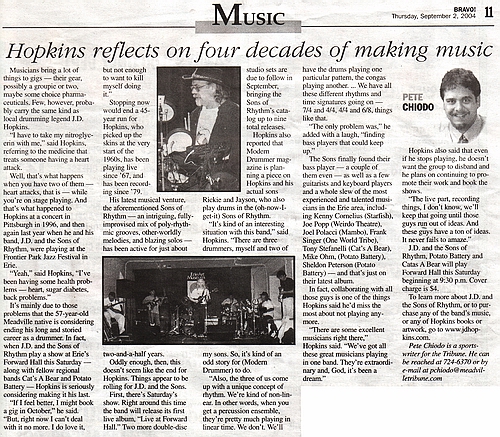 [ top ]
©2003 - jdhopkins.com | chelaBOP