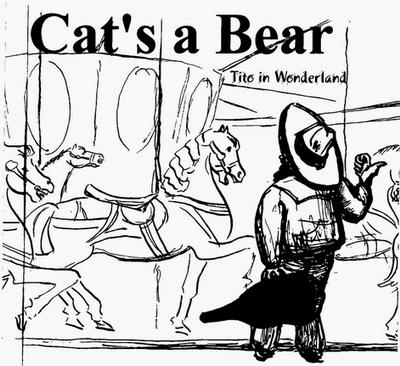 tito in
wonderland
Cat's A Bear
TITO IN WONDERLAND

contemporary jazz from the cats

Tito In Wonderland marks Cat's A Bear's debut expedition into jazz standards. Bringing Joe Dorris' vocal talents to the front and showcasing four standards, this album shows the deep connection to the music that set the path for each of the players, and the band itself.

Hear that sound onTITO IN WONDERLAND, 6 tracks of jazz.
disk 1
Blues for Alice...Parker, Dorris (lyrics)
Sugar...Turrentine
Change...Singer
'Round Midnight...Williams, Monk, Hanighan (lyrics)
Honeysuckle Rose...Waller
Prime Dub...Singer
the players

Frank Singer
Phil Papotnik
Tony Stefanelli
Joe Dorris
artist website:
catsabear.com
credits

production.....Cat's A Bear
engineering.....Tom Hitt @
Cycling Troll Studio
cover art.....Hal Singer
graphic design.....Bill Hanna
cd duplication by FAR
 
NKP 1996
[ top ]

Cat's A Bear Albums:
eye of the pyramid | tito: in search of a revolution
©2003 - jdhopkins.com | chelaBOP